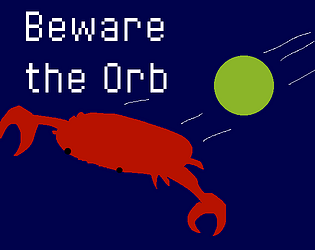 Beware the Orb
A downloadable game for Windows
This game is made in the context of GMTK Game Jam 2019 with the theme "only one". It is, or at least tries to be, a bullet hell with only one bullet. Also there is no shooting involved, so the player does not even have a single bullet.
Dodge the orb to the best of your abilities and save the people of Crabland from the tyranny of blue crab.
Credits to Juhani Junkala for the amazing music. Credits to malekith97 for the crab image and Rawdanitsu for the planet image used at the end.